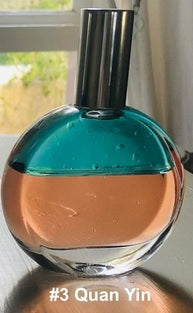 Quan-Yin Coral Qualities
Regular price $53.00 Sale
90 Quan Yin  3rd of 3 Helpers for 2022
So What happened around February 24th of 2022?
Melissie Jolly created 3 new helpers to assist us with these challenging times: Melchezideck, Merlin and Quan-Yin in the form of the dual bath bottles were birthed. 

Quan Yin
is the goddess of Mercy and Compassion - very Coral qualities - and she is reminding us of the immense power there is in Love and Mercy.
Those colours remind us to love and flow and trust. There's no pushing and fighting… there's the power of water that flows and surrenders and always gets to the sea. 
This works well with a Coral Angel or Coral Dragon Spritzers (see message in a bottle under spritzers.)