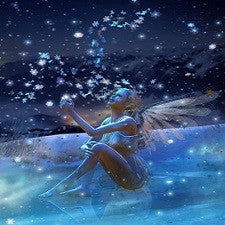 Chakra Balancing with Fairy Card Reading
Regular price $100.00 Sale
Chakra Balancing Healing - The chakras are constantly rotating and vibrating. The activities in them influence our: body shape, glandular processes, chronic physical ailments, thoughts, and behavior. When one of the chakras is blocked and the energy does not flow harmoniously through it or it is wide open, it will result in imbalance that is manifested in all  areas of life.
To attune your chakras I use a variety of Angel, Dragon, and Elemental Colour Mirror Spritzer Essences, Chakra bottles (C1-C8) and transitional higher frequency bottles (C9-C-15) or any of the other Dual Coloured message bottles, along with OM Tuning Fork  and  BioGenesis "Modern – Eternal Light Technology", healing tools and any other healing modalities that may come through.
Fairy Cards are fun and always a great way to receive magical messages. My favorite are the "Healing with the Fairies Oracle" Cards by Doreen Virtue.
This session will have you feeling refreshed, open to new possibilities and ready to take inspired action.
What happens in a session?
We start with Tea Time (if via Skype bring your cup to the session). This time allows us to start grounding ourselves in the present moment. 

If in person we take a photo of you on your phone or I will have you take a selfie.

 I check your chakras with the divine rod to see that they are balanced and if not then we will choose one of the Colour Mirrors essential oil spritzers to assist with that process and recheck the chakras.

 I have you lie down on my massage table or your bed if long distance,

I have you take a few deep breaths bring in your angels, teachers and family or anyone else that would like to be with you for support. .
We set a positive intention and outcome for your session while I am using the BioGenesis healing tool.
I will pick a 3 card spread of the Fairy Cards and share their messages.
 At this point of the session I choose specific Colour Mirrors bottles either from the original chakra set (C1-C8), or the higher vibration chakra set (C9-C15) or any other CM bottles that are drawn to you and we place them on whatever chakras are calling out for extra support and balance.
Also if you are doing the session long distance, I lay them on my massage table and imagine you on the table   Remember bottles are energy and so is your body.  Each bottle has a specific message.

I shake the bottle before hand and sometimes the bottle continues to bubble throughout the session.  That means that particular chakra is continuing to absorb those colours at a deeper level.

During this time as I  lay my hands on you, a variety of healing energies will come through.  I may receive messages and we may do some blessing and releasing of whatever issues may come up for you.

I will take another picture of you or have you take a selfie and we will discuss the changes.

We end the session with Tea Time to re-ground and integrate.
Total time I ask people to allot 15 minutes on each side for preparation and integration in addition to the hour session.
This is like peeling away the leaves of the Artichoke to get to the Heart of your "Inner Child."
You will feel refreshed and see new possibilities.
Bottles are available for purchase to take home to assist you on your journey.
 Sessions are available in person or Skype / 60 Minutes